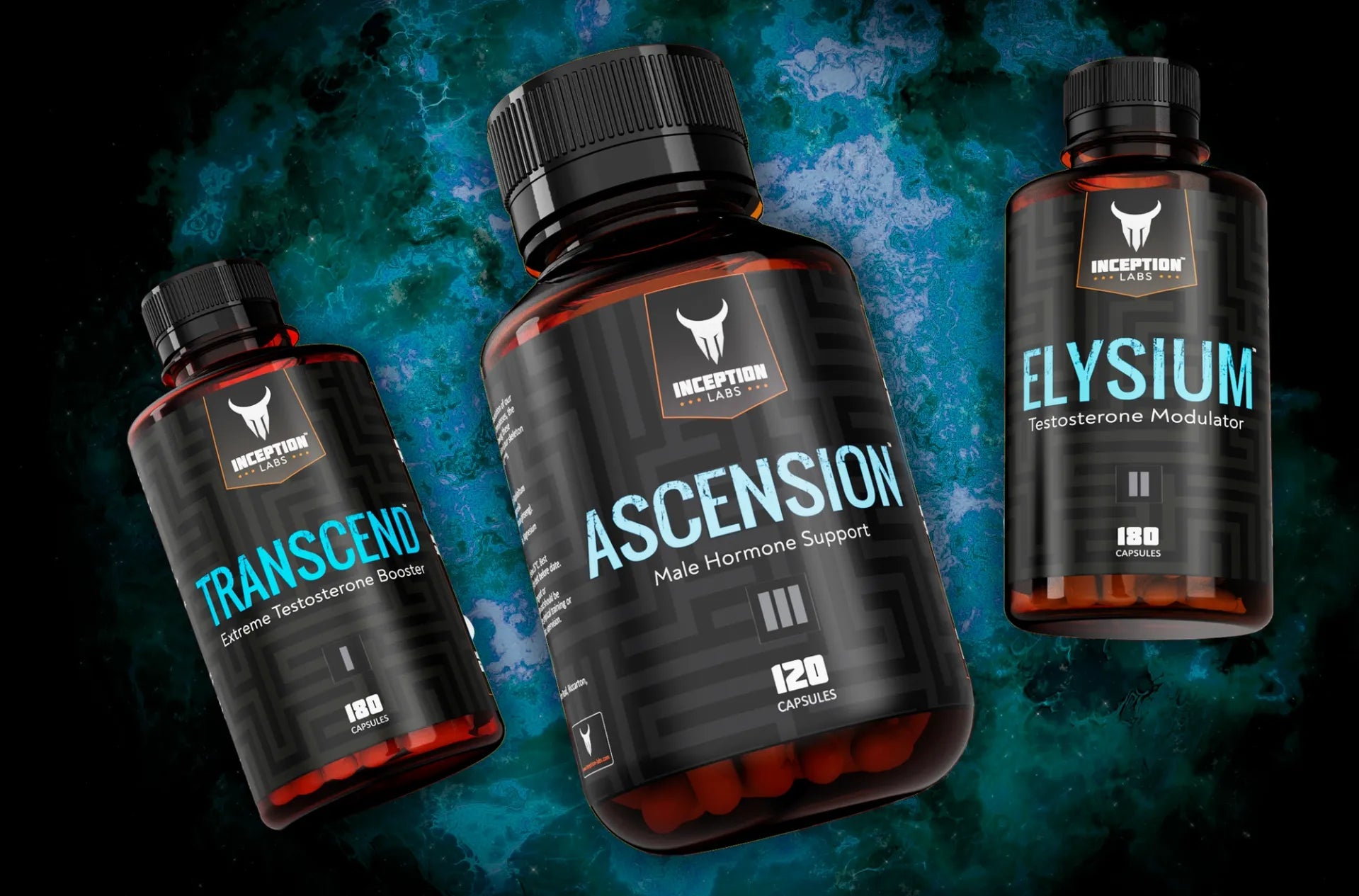 TRINITY CYCLE TESTOSTERONE BOOSTER RANGE
A highly effective way to stimulate lean muscle growth and increase strength, testosterone supplements will provide you with maximum power to achieve your health and fitness goals.
The Inception Labs Trinity Cycle range includes:
Transcend - the only testosterone booster NZ wide of its kind, covering power, strength, libido, mood, recovery and muscle mass.
Elysium - designed to keep your testosterone levels high to enable you to start making massive gains.
Ascension - a mid to high-strength testosterone booster providing maximum power and increased stamina.
We can ship your testosterone booster NZ-wide. Explore the key benefits and ingredients of our specially formulated testosterone supplements range and give yourself every advantage to succeed in your training goals.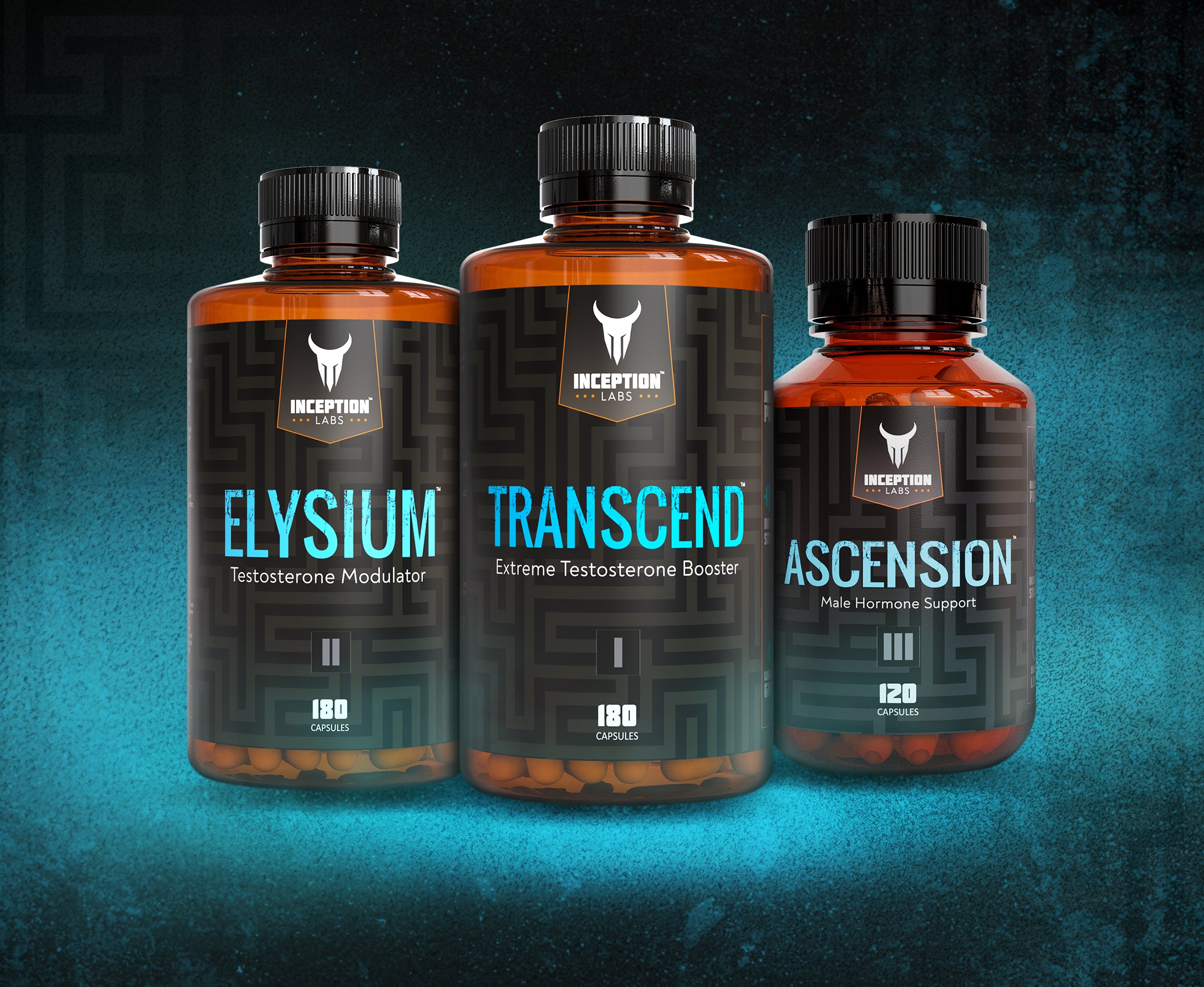 HOW OUR TESTOSTERONE SUPPLEMENTS WORK
Testosterone interacts with muscle cells within the body and is vital for muscle growth. Testosterone boosters enhance the efficacy of testosterone and elevate levels within the body, helping you to gain muscle mass and strength while improving athletic performance, endurance and stamina.

Testosterone boosters are typically used for cycling supplements for up to eight weeks, but what happens when the bottle is empty? When a testosterone cycle is complete, our bodies fight to normalise our testosterone levels. When we repeatedly maximise our levels and then strip away the supplementation, our bodies constantly battle to regulate.

We formulated the Inception Labs Trinity Cycle to enhance our physical performance and take better care of our bodies. Our three-stage testosterone booster cycle was designed to maximise, modulate and ease our testosterone levels back to normality, ready for the next cycle.

Think of our bodies like a yoyo. Traditional testosterone supplements act as if the user is aggressively tugging the yoyo at any random motion stage and hoping for the best. This leads to a startling motion and requires a complete reset.

The Trinity Cycle works differently. After releasing the yoyo, it purposely encourages it to rise back up at the right moment and holds it there before slowly easing it back to the bottom of the motion. With the right control, this can continue indefinitely without requiring you to take a break from the testosterone supplements.
FREQUENTLY ASKED QUESTIONS
WHAT ARE TESTOSTERONE BOOSTERS?

As we age, the body's ability the produce testosterone decreases. In fact, after the age of 27, most men experience a gradual decline in the hormone. A testosterone booster is a natural supplement that aims to increase your testosterone levels naturally. Testosterone boosters work by increasing testosterone within a normal range, providing all the benefits a healthy testosterone level can achieve, such as lean muscle gain and strength as well as aiding in fat loss, libido and energy levels. A safe alternative to anabolic steroids, testosterone supplements can be used for bulking, cutting and enhancing overall performance.
HOW CAN TESTOSTERONE SUPPLEMENTS HELP ACHIEVE FITNESS GOALS?

Testosterone is a hormone that is responsible for increased muscle mass and strength, fat distribution and bone density. Testosterone booster supplements naturally increase your testosterone levels to provide a range of benefits, such as faster recovery and helping you to build lean muscle.
ARE ALL TESTOSTERONE BOOSTERS EQUAL?

Not all testosterone booster supplements are created equal. We have found there is a shortage of good, natural testosterone booster products on the market, with many making false claims, so it's important to do your research. You should only choose products from a reputable, established supplement company. There is a huge range in the quality of the core ingredients found in testosterone boosters, so make sure you look closely at the label to check they are being produced out of TGA or FDA-certified facilities with quality testing behind them. Additionally, don't expect testosterone boosters to be magic pills – these supplements should support a great training program and solid diet if you want to get the results you desire.
WHEN SHOULD YOU USE TESTOSTERONE BOOSTERS, AND HOW SHOULD YOU USE THEM?

We highly recommend testosterone booster supplements for all men as they age, regardless of their fitness goals. Quality testosterone boosters are great for your overall health and for supporting your immune system.

How you use testosterone boosters to achieve the best results depends on the product you are using and some variables such as age and reason for use. Some testosterone boosters require you to use them in cycles before giving your body a break so it doesn't become dependent on them. It's essential to follow the directions on the label.
HOW DO THE INCEPTION LABS TRINITY CYCLE TESTOSTERONE SUPPLEMENTS WORK?

The Inception Labs three-stage formulation is unique in the industry in that it doesn't require you to take a break. Our unique testosterone booster range was designed to maximise testosterone utilisation and regulate back to a natural state.

Transcend should be taken for a cycle of 4 weeks followed by Elysium for 4 weeks to solidify all accrued lean muscle mass and continue boosting testosterone while suppressing estrogen production. Ascension can be used as a standalone product without the need to cycle off or as the concluding element of the Inception Labs Trinity Cycle. This testosterone booster works to ease the body back to regulated levels while maintaining strength and muscle growth at optimal levels.